Product
JTX
Bluefin Fitness
Confidence Pro Fitness
JTX
Product
Bluefin Fitness
Product
Title
Best Professional Vibration Plate
Confidence Pro Fitness
Product
Title
Best Affordable Vibration Plate
Top 5 Home Vibration Plate Machines On The Market
JTX 6000 Review – Our Number 1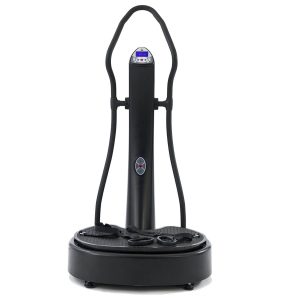 The JTX 6000 is an impressive gym standard vibration machine that comes with a lot of perks! Read on for a full list of the features!
The JTX 6000 combines vibration and oscillation training to give you even better results! This machine utilises high intensity vibrations (which are great for increasing strength and toning) and oscillation training (which is great for increased weight loss, removing cellulite and generally reducing your body fat) in order to give your body a more complete workout.
This machine comes with 198 speed settings and it gives you 8 workout programmes to choose from, so you will have a lot of options and you can change and improve your workout over time. The JTX 6000 comes with an LCD console which can be used to easily control your workout.
This powerful vibration machine has some pretty impressive horsepower. With the JTX 6000 you will get 2000x Oscillation, 500w Vibration and 4000w peak power. The weight limit for this machine is 160kg, so anyone who weighs less than this will be able to use the machine.
The JTX 6000 comes with the following perks: A free workout DVD, exercise straps for your arms, a workout poster and a free personal trainer who will help you with your workout via phone support!
The JTX 6000 comes with a 28 day guarantee, so if you are not totally satisfied with the product you can return it within 28 days for a full refund. This product also comes with a 1 year in home repair warranty, so not only are you covered for a year but if there are any problems with the machine the company will actually send their own engineers to your house to fix it at no extra cost!
Summary
Features: Vibration & Oscillation training – 198 Speed Settings – 8 Workout Programs- LCD Console – Free DVD- Free Personal Trainer – 1 Year Home Repair Warranty.
Pricing: High-end

Crazy Vibrations Review – Number 2
This vibration machine by Crazy Vibrations is designed to be extra quiet whilst helping you gain muscle and lose weight. Read on for some of it's best features:
This model has been upgraded with an extra silent motor and a 3900 Watt peak output.
The Crazy Fit machine comes with 180 pre-made levels, three in-built weight loss programmes and MP3 speakers which lets you listen to your MP3 player whilst working out.
The makers at Crazy Vibrations claim that using this machine will help you increase muscle and lose the same amount of weight in ten minutes then you would by spending an hour at the gym!
This machine is equip with a 2000W motor and has a maximum weight of 150kg, so anyone who weighs less than 150kg may use the machine.
This vibration machine comes with a LED display which will show you the length of your work out, the speed and the pulse.
This machine comes with fa free workout poster, instructions, tools and cords.
The Crazy Fit vibration machine has been built to last and features anti-jamming and anti-static mechanisms as well as a lifetime motor warranty.
Summary
Features: Extra silent motor – 180 Pre-made levels – Three Weight Loss Programs – LED display – Free extras – Lifetime Motor Warranty
Pricing: Mid-range.

Confidence Plus Review – Number 3
This flexible and easy to use vibration plate trainer is perfect for beginners and gym-phobics everywhere. Read on to find out more.
This easy to use machine includes a great user friendly console and an easy to use menu that will help novices feel at ease.
The Confidence Vibration Plate Plus is a very flexible machine which will let you try out a variety of positions and work outs.
This machine's maximum power is a reasonable 600W. The maximum weight for this machine is 150kg, so anyone who weighs less than 150kg may use the machine.
The Confidence Vibration machine utilises easy to use handles and straps to help you make the most out of the product.
This is an easy to use, quiet and robust machine that offers a variety of speed settings to help you improve over time.
Summary
Features: User friendly Console – Flexible Machine – 600W – Easy-to-use Handles
Pricing: Mid-range

Gadget Fit Review – Number 4
This affordable vibration plates machine offers a budget buy without skimping on quality. Read on for all the features!
This machine has 50 speed settings and 3 built-in workout programmes, so you will be able to improve your fitness levels over time.
The Gadget: Fit has impressive anti-jamming and anti-static mechanisms designed to help the machine run smoothly, and it offers a strong 600W motor. This machine has a 120kg weight limit, so anyone who weighs less than 120kg can use the machine.
Gadget:Fit's display will accurately show you the time, pulse and speed of your workout and will let you control your workout via the simple display screen.
This machine has been designed to increase muscle, decrease body fat and cellulite, improve your circulation and balance and help get rid of stress and fatigue. All from the comfort of your own home!
Summary
Features: 50 Speed Settings – 3 Work-out Programs – Anti-Jamming mechanisms – 600W Motor – Easy to Use Display.
Pricing: Affordable.

EMP Plate Review – Number 5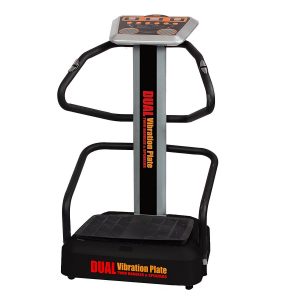 This modern vibration machine is packed with exciting features at an affordable price. Read on to discover more.
The High Power Dual Vibration Plate comes with an impressive range of 99 speed setting and 3 training programmes, so you can continue to improve and modify your workout over time.
This machine has 2000W motor that has been especially designed for an extra smooth workout, and it also has 13mm Oscillating swing motion sensors. The maximum user weight for this machine is 120kg.
The High Power Dual Vibration machine comes with ergonomic handlebars for extra comfort, and it includes twin speakers so you can easily hook up your mobile or MP3 player. This machine comes with large food plates and two free power cords!
The High Power vibration machine comes with 3 LCD displays that will let you select your programme and view/control the pulse, time and speed of your workout.
Summary
Features: 99 Speed Settings – 3 Training Programs – 2000W motor – Ergonomic Handles – 3 LCD Displays.
Pricing: Affordable.

Verdict
These are all excellent vibration machines and all of them will give you a worthwhile workout, but first prize has to go to the JTX 6000: High Power Vibration & Oscillation Plate. For Weight Loss And Toning. This machine has tons of speed settings and 8 workout programs to choose from so you have loads of variety and can continue to improve over a long period of time, it comes with an easy to control LCD display system, it combines vibration and oscillation to give you a more thorough and all encompassing workout, it comes with loads of perks and best of all it has a year long repair warranty!
If you want to strengthen your muscles and lose weight but the idea of running on a treadmill or lifting heavy weights at the gym makes you want to run for the hills, then you've come to the right place. Vibration plates have grown in popularity over the last few years, and what makes them so appealing is that they claim to offer weightless and muscle gaining benefits with minimum effort!

How Do Vibration Plates Work?
How it works is quite simple. You stand, sit or adopt another position on the vibration plates and the plates begin to literally vibrate. As a result of those vibrations your muscles will begin to contract in order to keep your balance on the machine, and so if you do fifteen-twenty minute work outs several days a week you will be giving your muscles a good workout whilst you literally just stand or sit there!
Of course it's not quite as simple as that and you will still feel your body working to keep your balance and strengthen your muscles, which is why people with physical conditions should still talk to their doctors before investing in a vibration machine. All in all though this is an effective, quick and relatively easy way of losing weight, and best of all there is not a treadmill in sight!
More benefits
Vibration plates offer more than easy weigh-loss. They are also an effective way of overcoming osteoporosis and increasing your bone density, they improve circulation, they help improve your immune system and they can even help with hormonal imbalances and help you stay youthful for longer!
What to consider
Buying any piece of gym equipment for personal use is a big investment and so it's important that you know what to look out for before making your decision. This review will show you some of the best vibration plates on the market, but before we go into all that here are a few things you should know when buying vibration plates.
Horsepower and size
When buying vibration plates you need to check the size of the motor. A larger, more powerful motor will be able to offer higher vibrations and will be able to handle a heavier weight load, which is important if you or someone in your household is a little overweight. Larger motors will also tend to be quieter than their smaller counterparts because they don't have to strain themselves to deliver results, so if noise is an issue for you (maybe you live in a house share or a flat) the size of the motor could be an important factor for you.
[amazon_link asins='B00GMHWAF8,B01M0345IJ,B0033ADZ60,B01CUBGP14,B00GNEE3TQ,B011MOXCKM' template='ProductCarousel' store='bestvibrationplate-21′ marketplace='UK' link_id='366317a2-df20-11e6-8f32-69ab4c4da735′]
Frequency
The vibration plate's frequency range is another important factor because it will tell you how fast the plates can vibrate. The frequency range is normally measured in pulses per second, so the higher the number the faster the vibration plates will work.
When you buy home gym equipment it's important to make sure that you will be able to use the machine over a long period of time. When you first start using your vibration machine you will probably need to start on a lower frequency setting so you can ease into the exercise, but over time you will improve and you'll need to increase the frequency so that the machine continues to give your body a decent workout.
If your body becomes comfortable with the frequency and there are no options to increase it, then you are not giving your body a decent work out and you will stop seeing results. This is because as you get fitter your workout needs to gradually become harder so you are still working your muscles and challenging your body. If you stop challenging your body it won't need to work as hard, and whilst you should be able to maintain your progress it will become harder to improve and get better. Therefore it's important to make sure your vibration plates have a decent frequency range (say 30-50 hertz) that allows you to increase the frequency at will so you can continue to get the best results out of your machine.
Size and accessories
The bigger your vibration plates are the more exercises you will be able to do, so to get the most out of your investment it is worth spending a little more for a decent machine.
There are different vibration plates out there and not all of the machines are going to look the same. If you buy a more compact machine you may want to invest in upper body straps so you can still get the most out of your workout. You can also get machines that come with extra mats that you can use to make your work out easier, although once you improve you may have no need for them.
Warranty
Last but not least is the warranty. Buying gym equipment for personal use is a big investment and you'll want to ensure that you are getting the most out of your money. The last thing you'll want is to buy an expensive machine only to have it break a few weeks/months later, and if it doesn't have a warranty you may end up stuck with a bulky machine that doesn't work. A warranty will cover you from manufacturing and accidental damages over a set period of time (typically 1-5 years) and so if you do end up with a faulty or flimsy machine you will be able to replace it easily.
Warranties are also a good way to gage the quality of the product you are buying. If the vibration plates you buy come with a 5 year warranty, then that shows that the manufacturer believes this machine should run for at least 5 years. There would be no point in making a flimsy machine and slapping a long warranty on it because you would just lose money, so as a general rule the longer the warranty is the better quality the machine is likely to be.